Every few months our talented modding community organizes an Overgrowth map jam, where the goal is to create a themed map in just ten days! July's theme was "music" and there were some super creative entries that we're excited to show you.
The first map is The Tower, in this map you'll follow Thorn and Sparrow on their harrowing journey to save the world from "The Great Chill".
Coming up second is The Jester, where you'll take control of a mad jester as he wreaks vengeance on the king who imprisoned him.
Third on our list is The Musical Stones, which follows the adventures of Rone as he collects all four of the mysterious musical stones.
And also tied for third is Someday, a short and surreal descent into the weird and wonderful.
And lastly we have Trololo, which is the best way to learn the lyrics to the hit song of the same name.
Here are the voting results: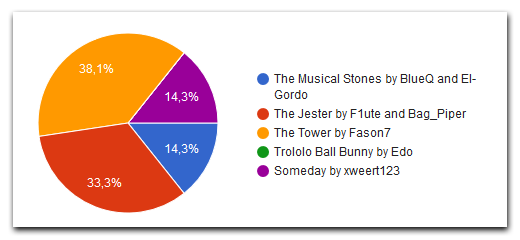 Thank you to everyone who participated! If you'd like to take part in the next map jam, or just stay up to date on all things Wolfire, please join our official Discord server!